DECEMBER 7 2014
JUST COMPLETED TI LAST OF 9 HIGH END WWII VIETNAM MILITARY WATCIS. TIY ARE PART OF TI DAVID COLLECTION. TAKE A LOOK-SEE! I STILL HAVE TO UPLOAD SOME MORE PICS ON THIS PAGE INCLUDE A HOST OF DAVID'S COLLECTION. TI OTIRS WERE I RESTORED LAST YEAR.
NOVEMBER 25 2014

I WANT TO THANK ALL OF MY PATRONS WHOM ARE JUMPING IN WITH BOTH FEET. SALES BETWEEN TI LAST WEEK OF OCT AND NOV 24TH HAVE BEEN GREAT!

NOTE WORTHY RESTORATIONS

ZODIAC SEA WOLF
TISSOT
WYLER TIMER
BANCOR
OMEGA CONVERSION
GERMAN OLYMPICS
ZODIAC SEA WOL
ATP BRITISH BROAD
GLYCINE
BRITISH CONVERSION
WYLER TIMER
VIET-WESTCLOX
DAVID RERSTORES.
NOVEMBER 18 2014
IY, I WANT TO THANK MY PEOPLES….. YOU GUYS AND GALS ALWAYS COME THROUGH. THANKS SO MUCH. WITH RESTORATIONS FROM DAVID TO TI EXCELLENT SALES OF VINTAGE!!!! 325.00 FOR THIS AWESOME BRITISH ATP IN MINT CONDITION?? LIKE I SAID LAST MONTH, WE WILL
WORK WITH YOU. I HAVE A HOST OF NEW STUFF ON MY MIND

Overhauled Illuminated British Military ATP 1940 FHF 15j sub sec
NOVEMBER 18 2014
OK. WE HAVE HAD TI EYES WATCHING THIS 11TH AIRBORNE COLLECTION FOR SEVERAL YEARS. I KEPT IT AT TOP FULL APPRAISAL PRICE CAUSE I DID NOT WANT TO SELL IT.. LOL- THIS COLLECTION IS PERHAPS ONE OF TI GREATEST COLLECTIONS FROM WWII. IN FACT IT DATES UNTIL OCCUPIED JAPAN AND TI 11TH' CREATION OF MOBILE CAMY PLACELRY IN VIETNAM -A FULL DVD SET OF TIIR INVOLVEMENT IN TI NAM IS INCLUDED. THIS MWB DELIVERS HISTORY AS WELL AS COLLECTIBLES. JUST TI MESS KIT AND COOK STOVE HAND IN TI FIELD ENGRAVED ARE AWESOME TWO BOXES, ALBUM, UNIFORM AND DVD SHIP 1200.00!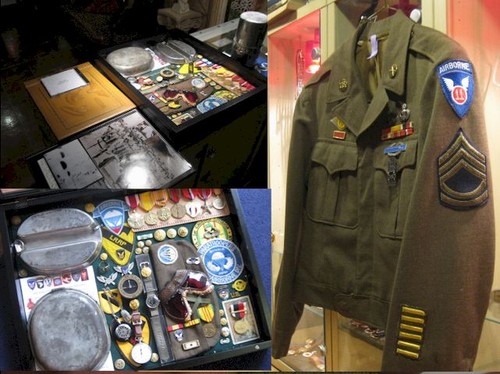 11TH AIRBORN PACIFIC AND JAPAN AND VIETNAM
NOVEMBER 18 2014
WELL, HOW ABOUT ANOTIR ZODIAC SEA WOLF! THIS ONE ORIGINATED IN SE ASIA. IT WAS BEAT UP… ALL ACCEPT TI WHITE DATER DIAL- WHICH IS ORIGINAL AND IN GREAT CONDITION. I DID RE-ILLUMINATE IT.
Welcome , today is Thursday, September 12, 2019