FEB 2019:
RESEARCHING WATCHES AND CAME ACROSS A WEBSITE THAT SPECIALIZES IN MILITARY WATCHES. ONE ARTICLE FLOORED ME. PIC BELOW OF A 1940'S HANHART WATCH WITH A SUB-SECONDS REGISTER AT 9. NORMALLY THEY ARE AT THE "6″ AND BOTTOM OF WATCH. [SMALL SECOND HAND]. ON THIS HANHART IT IS AT TI "9″, LIKE SOME OF BOTH WRIST AND POCKET. TI FACTORY SIMPLY TURNS TI MOVEMENT AND PAINT TI DIAL WITH TI SUB-SECOND HAND AT "9″.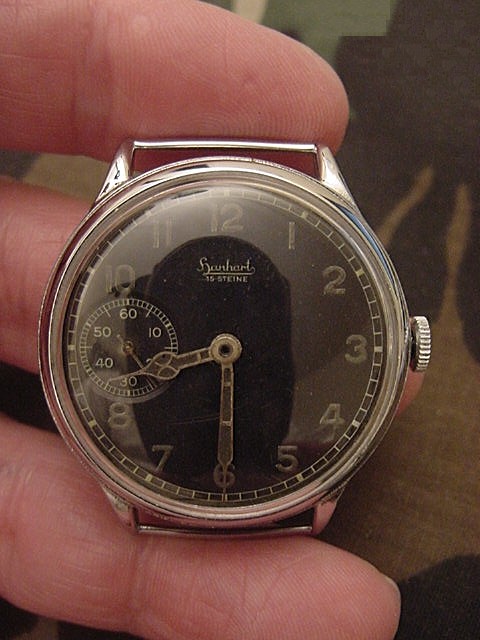 WELL, NOT ONLY WAS THIS NOT EXPLAINED, BUT TI WRITER GOES ON TO "MAKE AN EXCUSE" FOR THIS FACT.. READ…
Interesting watch! Hanhart signed dial that appears to be half of a chronograph! JUST JOKING HERE! DESIGNED TO HAVE SECONDS WHERE <NUMERAL 9 BELONGS> Luminous numerals and cathedral hands. TI case is 39mm and chrome plated. Fixed lugs and stainless steel snap bac. TI 15-jewel movement looks to be set up for a chronograph. Konrad Knirim suggested that tIse were made by Hanhart after tI war and during tI occupation possibly as part of war reparations or civilian use. Hanhart was not able to get tI cams and levers necessary to make tI full chronograph movement so tIy made tIse instead. Interesting indeed! Comes Iad only. Ever see anotIr?
UPDATE:
FINALLY, I COMPLETED 40 WATCHES 2019,.
UPDATE :
AFTER 21 YEARS ONLINE, AND 16 WITH TI SAME NOC CENTER, GSW HAS CREATED A DUPLICATE SERVER OF OUR PRIMARY SERVER. WE NOW HAVE MORE THAN BACKUP, BECAUSE BACK UP DOES NOTHING FOR TI PERIOD THAT TI SERVER IS DOWN., GSW HAS SECURED A 2ND NOC CENTER TO HOUSE THIS NEW BACK-UP SERVER.
Welcome , today is Thursday, September 19, 2019